WILLIAM SHAKESPEARE
Alexander Laube (dir.)
Performed in English – NO surtitling
Hamlet the play, Hamlet the man, Hamlet the problem.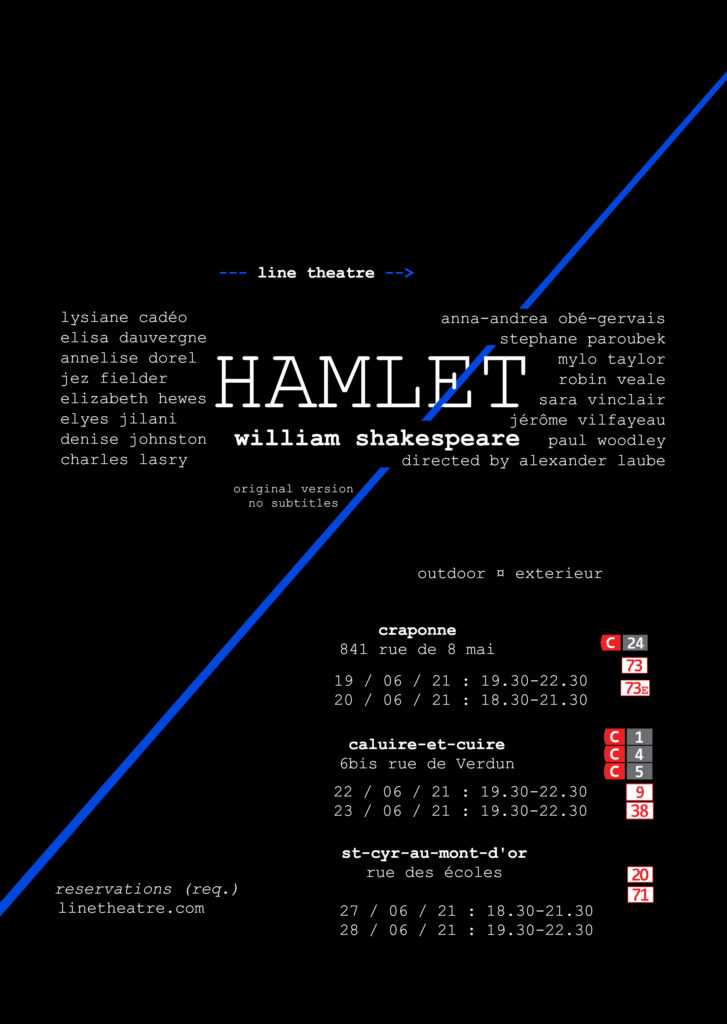 An Elizabethan version of the play. To be played outside, in daylight, with a minimal use of costume, technology, and gadgets.

To be or not to be and hundreds of memorable phrases.
In November 2020, it became difficult to rehearse, but not impossible. Still, there were other considerations, working masked, sheltering fragile relatives, rehearsing with others by phone, and always slightly worried that rules were being broken, or that the cast would fall ill. We resisted.

Bad things didn't happen, and as a result we can now play Hamlet as the world becomes open again.
A stripped down version. Concentrating on the main action and avoiding the repetition. This Hamlet lasts 3 hours with a decent break in the middle.

Usually, we use surtitling for English plays -projecting a French text with the spoken English, but this time it will be purely in Elizabethan English. Some of our audience won't be able to come and enjoy the play – for which we're sorry – but we will try to return with a surtitled version, perhaps inside when autumn comes.

Thanks to the generosity of people, we are able to perform outside in two venues, and inside/outside in another.
We're still subject to some restrictions. But at last, we're back.
At
| 841 rue de 8 mai, Craponne
A large, wild garden space. We're limiting capacity to 50 people at each show. 19th (19h30) and 20th June (18h30).

| 6bis rue de Verdun, Caluire
A private house, with a large living-room opening onto an outside terrace. 22nd and 23rd June (19h30). Capacity strictly limited to 20 people at each show.

| St-Cyr-au-Mont-d'Or, rue des écoles
An outside municipal performance space, covered, with seating for 100 people. 27th (18h30) and 28th June (19h30)
Sunday shows start earlier.
pay-what-you-want